Storytelling
Journey to Xotera is a guided interactive storytelling experience— set in outer space— designed to encourage participants to rethink how they use their imagination.
Storytelling
For my senior year at NYU, I worked as a production coordinator at the creative agency
Invisible North.
I helped build a variety of meaningful experiences that brought life to brands and special moments for guests.
Storytelling
An exhibit set 500 years in the future, The Pinnacle celebrates the freedom of humans from the constraints imposed by work and embraces the benign rule of the machines. Though humans are experiencing a renaissance of leisure and fun due to the reliance on machine labor, a spiritual void persists. By the end, exhibit guests become what this world has forgotten.
Architecture

Inspired by the architecture in Walt Disney's Aladdin (2019), I recreated a my own version of Princess Jasmine's chamber in Sketchup.

Visual Art

In After Effects, I experimented with generative art using recursive noise and visual feedback to create natural and/or abstract patterns.



Storytelling
Sylvester and the Magic Pebble is one of my favorite childhood stories. I reproduced the spirit of the story by creating an interactive version that progresses the reader through the story as they hold in-world elements up to your computer's camera.
Storytelling
I created a fictional open call proposal for an interative media museum. The concept is MOY: a multi-tiered interactive installation designed to take participants on a visual journey using sentiment analysis.
Visual Art
For my final Creative Coding project, I wanted to create something simple, interactive, and therapeutic in the p5.js web editor. The result is a rippling sketch.
Unity x Arduino
In Unity, I created a retro-style car game with a cyberpunk, futuristic feel. I incorporated physical computing controls to effect the sound, the lights and a particle behavior.
Storytelling
Are you a replicant? Now, anyone can take the Voigt Kampff Test. I recreated Bladerunner's movie poster and turned it into an interactive experience.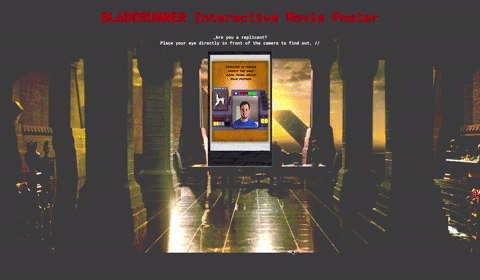 Visual Art
Take a peek at some more generative art made in the p5.js editor!
Storytelling
Taken on as the fictional CMO for NBCU's Peacock, I decided to use a reboot of the Back to the Future Triology as the primary vehicle to distinguish the new streaming service from its competitors.
Unity x Arduino
This spooky scene is of a witch's haunted home. Although there's no sign of the witch, her clumsy spirit still roams cooking stew and at times… accidentally setting off her fire alarm.
While working at HBO, Bleacher Report and Invisible North, I added value by distributing weekly competitive analysis reports, creating client decks, and writing official content summaries. View some of my industry samples
here!